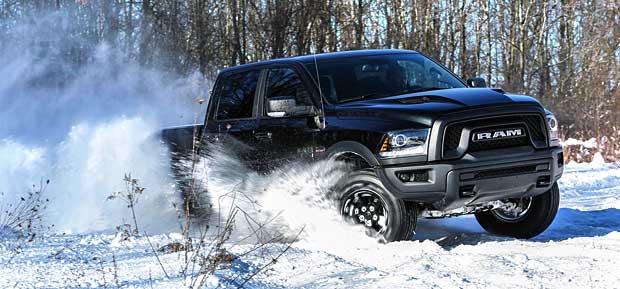 At Scott Campbell Dodge, we work hard to offer the best prices and the best customer service in town. On top of that, we already know that no other truck can compare to the rugged and reliable RAM series of trucks. They're powerful, comfortable, and packed with impressive entertainment and safety technology.
Serious Deals on RAM 1500s
When we say clearout, we mean it. Only at Scott Campbell Dodge can you find brand-spankin' new RAM 1500 trucks for 25% off MSRP. This deal isn't available anywhere else because nobody in Saskatchewan beats our prices!
We sliced and diced the numbers to get every in-stock RAM 1500 on our lot below 25% off MSRP. We're basically giving these trucks away in order to serve North Battleford and beyond better than anyone else! This means thousands stay in your pocket; why not take a vacation away from the snow and cold, or finally get the kids that Nintendo thing they've been talking about forever!
Why the RAM 1500?
2018 is coming to a close and its no secret that a new model year means that our 2019 RAMs are already hitting the lot. We need to make room, and we want to share the opportunity to slice prices with our loyal customers. 2018s are the first to move, and our trucks are the most popular bodies on the lot. What does this mean? More than $13,000 off some models!
In Saskatchewan, we might often feel like our province is as flat as everyone else thinks it is. With that being said, we have some of the most aggressive and tough terrains out there, especially during the winter season. Nothing can take care of the tough road conditions like a reliable truck. Better yet, you'll be able to take the snowmobile along with you with payload and towing capacity like no other. Our biggest goal is to make sure that everyone is having fun this season; not worrying about if they can afford a new truck. With prices this low, it's easy!
Why Only at Scott Campbell Dodge?
When vehicle manufacturers offer savings, they're often decided for the entire country all at once. At Scott Campbell, we go above and beyond. This means that we offer discounts beyond those of other dealers and RAM at a national level because we want to save you more. Our 25% off MSRP on all in-stock 2018 RAM 1500s offer is the perfect example. Manufacturer discounts can't compare!
We want to ensure that our community knows that nobody beats our prices, nobody has better customer service, and nobody cares more about their customers than we do here at Scott Campbell Dodge!