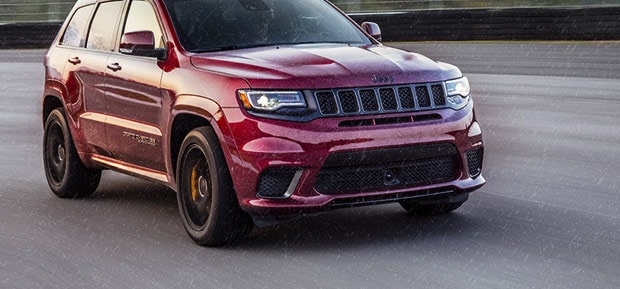 Winter driving can be tough; it's no secret. When the season hits it can seem like everyone else has forgotten how to drive. Our goal is to help you find the right vehicle and winter tires to make winter driving feel like a breeze. Whether you're commuting with a full family, or are looking for a simple daily driver for one, there are options here at Scott Campbell Dodge.
Finding the Right Winter Vehicle for You
These days, our SUVs like the Dodge Journey and the Jeep Grand Cherokee are some of our most popular vehicles. Why? Because they're spacious and can fit the whole family, they're dependable and full of impressive tech and safety features, and they're more affordable than ever.
(Psst: our 2018s are priced to clear with savings of up to 25% off MSRP!)
When it comes to choosing a winter vehicle, you're also choosing a vehicle for the rest of the year. This means that it's important to choose something that meets all of your needs, year-round, and is also capable of handling what winter can throw at it. Depending on your daily drives, 4-wheel drive can often be a must. Here are some important questions to consider when choosing your next vehicle for winter and beyond:
Can your commute get tough and require 4-wheel drive?

Are you travelling outside of the city? Usually, the roads are worse once you get out of city limits.

What types of roads are you travelling on? Hills and bumps or often-paved asphalt?

How much space do you need for your family and all of their belongings?

Do you use your vehicle for work? Is a truck or a van a must-have?

What features are most important to you when it comes to technology? Do you like the extra comfort of added safety features or do you prefer a more manual experience?
Thinking about the answers to these questions can make the choice seem almost obvious to some:
Need lots of space? Think SUV like the Dodge Journey or one of our Jeeps to fit.

Are you a business owner or do you require the use of a truck for work? Nothing out there can compare to our series of RAM trucks.

Riding solo or within the city? A great car like a Chrysler 300 or Dodge Charger.
How to Make Any Vehicle Winter-Ready
While not all vehicles are equipped with 4-wheel drive and are capable of climbing even the biggest of Saskatchewan snow hills, you can make any vehicle ready to tackle some snow with great winter tires. Luckily for us, we live in one of the few provinces where studded tires are legal. Nothing beats studded tires: they're the best that winter can offer.
When you book a tire changeover with our experienced service team, they'll help you find the right tires for your vehicle. Whether you're looking for winter tires for your car or studded tires for your truck, they'll help you find the right fit. Every tire and vehicle is unique, so don't get left in the snow. The right tires can make an incredible difference in how your vehicle handles in the snow and prevent you from slipping and sliding.
The Little Details Count when you're Preparing your Vehicle for Winter
On top of winter tires and a great vehicle, it's also important to take care of the internal components of your vehicle. Here are a few quick tips to ensure that you're safe all winter long:
Check your fluids: from oil to washer fluid, make sure that you're topped up

Battery life: more important than your phone, have your car's battery tested by trusted professionals

Have an emergency kit: with some non-perishable food items, bandages, and other emergency supplies just in case

Gas up: never run on empty - always ensure that you have adequate gas in case you end up lost or driving longer than expected
When it comes to winter, nobody does it like Scott Campbell Dodge. Nobody beats our prices, nobody has a better selection, and nobody has better customer service. Visit us today to get ready for winter in a great
new
or
used vehicle
, or to install winter tires to keep you on the road. We'll be ready when you are.