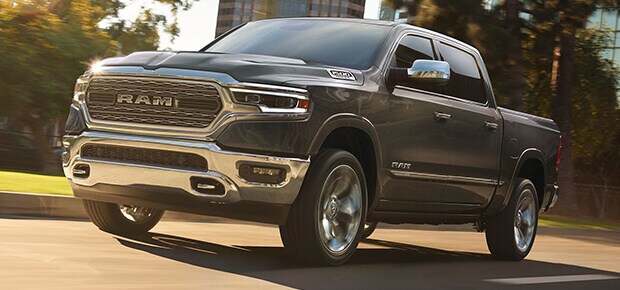 Is it time to upgrade your wheels to something that can handle winter in the oil fields and blast around the farm when the spring mud hits? Find out why the Ram 1500 isn't just North America's 2019 Truck of the Year (as per Motor Trend Advertising Group), it's North Battleford's truck of the year, too!
Sure, the new Ram is shiny -- it has all of the bells and whistles we've come to expect from new models, but it's the guts that make this truck a true beast of burden. Blend that with the pinnacle of truck fuel economy technology, eTorque, and you have reached the trifecta in work vehicles -- smart, stylish, and ridiculously strong! It's no wonder that the Ram didn't just compete in this year's truck reviews, it dominated.
Tech Specs
So, how smart is the new Ram, really? Instead of just getting you safely to the job site, this truck turns into your own mobile office with ample space to set up your laptop on the centre console or to stash it inside where it can be safely locked. See why Motor Trend editor, Chris Walton, says the truck has picked "the benchmarks for both design and packaging", referring to it as "the Viper of Rams." You'll never miss a client call with the Uconnect infotainment system, and the days of getting lost on country roads will be over using GPS on the 12-inch touchscreen. It's clear with features like these, Dodge believes a bit of luxury never hurt a hard worker!
Tough Stuff
The flashy things are all good and well, but you're probably wondering what's happening under the hood. For starters, the Ram 1500 sheds about 200 pounds from its predecessors with the switch to high-strength steel. But with lighter weights does not come less power -- quite the opposite, in fact. Hauling won't be an issue, as the truck can handle towing up to 12,750 lbs with either the base V-6 or top V-8 engine option. Fuel consumption is cut down using electric aspects, including a smart system that lets you cruise slower in high gears. To get through a ruthless Saskatchewan winter, you'll probably want to get your hands on the 4x4 models, though a range of configurations exist.
Safety Features
Even on the roughest of roads, you'll feel in control with coil-spring suspension and the "steering is fluid and quality-feeling", as Kim Reynolds, testing director at Motor Trend, notes. That high-strength steel doesn't just lighten the load, it also helps protect passengers in the event of a frontal collision, giving it top marks from the Insurance Institute for Highway Safety. Dodge wants to go further than that, as is shown by their dedication to stacking the Ram with all the latest in collision prevention technology. This includes warning systems, blind spot monitors, cameras, and lane keep assist, combining into a comprehensive defence against fender benders.
Is It for You?
If you like calling in sick every time it snows or having the tow truck on speed dial, then no, the 2019 Ram 1500 probably isn't for you. For everyone else that wants to get the job done, you really can't find a better rig out there. At Scott Campbell Dodge, we'll fit you into the right model for your working needs taking into account the terrain you'll be travelling, the cargo you'll be stashing in the bed, and the extras you want on the inside.
When you're ready to test out this award-winner for yourself, contact us and be prepared to be impressed!