Are you looking for parts for your Chrysler, Dodge, Jeep, or RAM vehicle? We're the place to shop! We also have aftermarket and off-brand parts for vehicles of all makes and models, even if you're not yet part of the Chrysler crew. Use our parts catalogue link below to browse and find the right parts for your vehicle. With Mopar, you'll have access to exclusive discounts and savings, right from your smartphone!

Car Parts and Accessories in North Battleford
If you're looking for a trailer hitch for your truck, simple wiper blades for your car, a lift kit, or even a roof rack, you'll find it here. Our dedicated and trained service team will even help you professionally install your parts and equipment for optimal performance. If you're looking to buy car parts, browse online and book your parts consultation with our team today!

---
We've taken the Willys Edition Jeep Wrangler Package a step further by adding a Mopar Performance 2" Lift Kit; 33" Goodyear Duratrac Tires; XD Wheels; MBRP Spare Tire Mount Kit; and Mopar Front Light Bar Mount to accommodate most any of your lighting needs while adding extra protection to the grill!
This Jeep is ready for adventure, are you?
Protect your Factory Warranty by having us install genuine Mopar Accessories:
Parts List:

77070095AD - 2" Mopar Lift Kit

XD13178050700 XD RG1 - Beadlock Look Wheels

312053142Y - 33" Goodyear Duratrac Tires

123220RR - Mopar Off-Road Light Mount Bar for three lights

82210270AD - Mopar Taillight Guards (not shown)

130718, 130903 - MBRP Spare Tire Mount (not shown)

---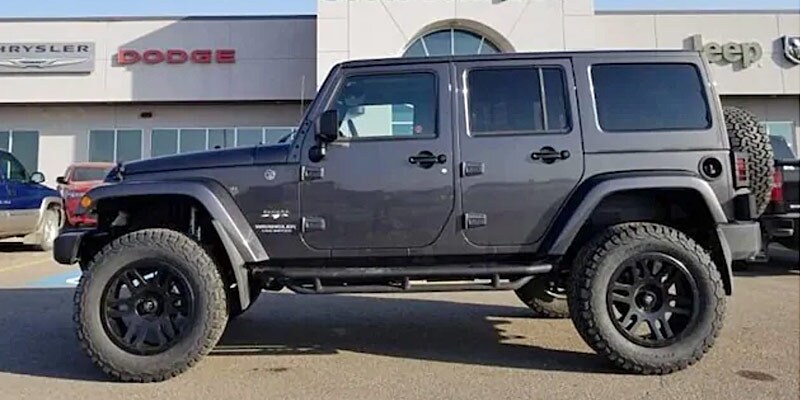 Form meets function with this beautiful, and tastefully-optioned, Jeep Wrangler! 
This trail-rated Jeep was already well-equipped with factory creature comforts-then we layered it with more functionality! 
We've equipped this gem with BFG KO 2's that are rated for winter, wrapped around Premium Fuel Rims. All this is supported by a Mopar 4" Lift Kit for unmatched ride quality and superior handling, on the road and on the trails!  In case you plan to blaze your own trails, we've added Smittybilt Functional Rock Rails with Steps and Rugged Ridge Tail Light Guards to keep things straight and in one piece.
Whether you're headed for powdery runs in the Rockies or you just want that fresh cup of java from your favorite coffee shop in a Prairie blizzard.
This Jeep will get you where you want to go!
Protect your Factory Warranty by having us install genuine Mopar Accessories:
Parts List:
77072353AC - Mopar 4" Lift Kit with Fox Shocks and Front Drive Shaft
11226.05 - Rugged Ridge Tail Light Guards
130718, 130903 - MBRP Spare Tire Bracket
76634 - Smittybilt SRC Tube Steps
D58420907350 - Fuel 20" Recoil
TBF023413 - BFG A/T KO2 35.12.50r20